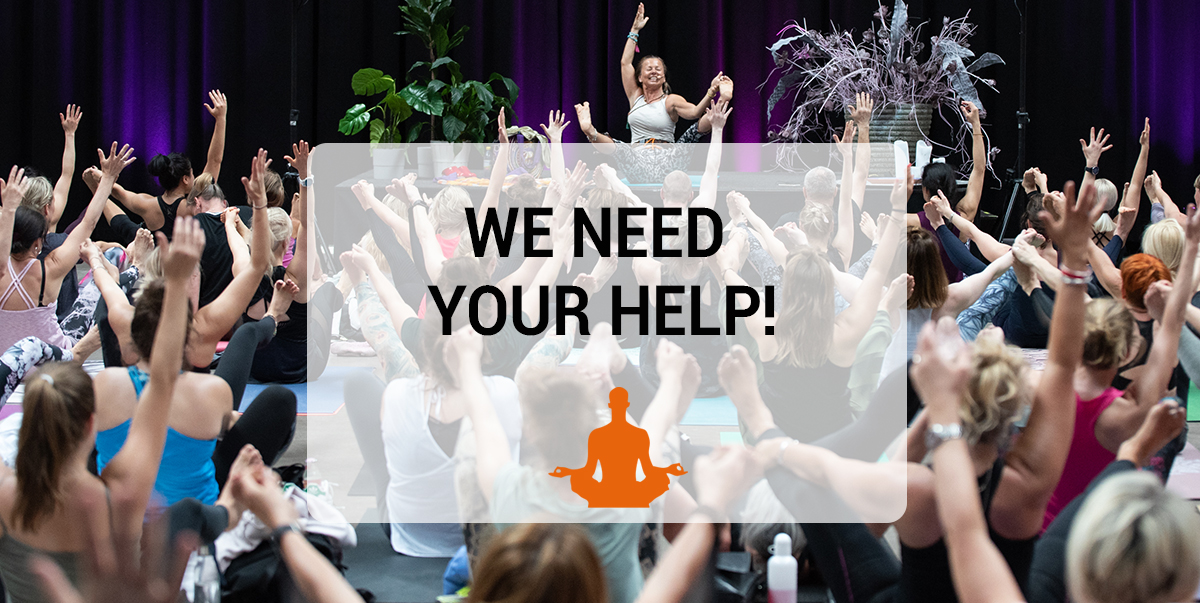 THE POWER OF COMMUNITY
Everyone is affected in one way or another in these times and so are we at Yoga Games. Right now, we are facing our biggest challenge ever with postponed events with great costs without any revenue. We are struggling to survive! We love delivering these magical events where people meet and together experience the many dimensions of yoga, something we still want to be able to do in the future. We therefore need your help! Small streams make a great river and we hope to be able to come together and together create a future for Yoga Games. This is The Power of Community – Yoga of the food into the world and what we are passionate about!
Yoga Games affects
After each event, we get many amazing stories about how the Yoga Games have had a tremendous impact on many people's lives, that thanks to these events they have been inspired and found a new positive direction in their life despite everything happening off the carpet, in life. We know that Yoga Games really makes an impact and participants leave the yoga mat and carry the energy and knowledge further into the world and their lives, which in turn affects thousands of others. We love to do this and we do everything to keep giving you Yoga Games!
We had big plans for Yoga Games in 2020, we would start big in Copenhagen and celebrate 10 years in Gothenburg. But instead of opening the doors to our first Yoga Games in Copenhagen and celebrating with all of you in Gothenburg, we now face a huge financial challenge. We have been forced to move both Copenhagen and Gothenburg and that everything is uncertain going forward. If we are to survive, we need your help! All donations, large and small, are important. We ask for your help! Help us survive so that we can continue to meet at the Yoga Games in the future! Donate, share this page, when we come together we can save Yoga Games!
All donations are welcome and important, you can choose any amount or choose any of the options below! THANKS
DONATE ANY AMOUNT!
We are extremely grateful for all the support we can get.
_
DONATE 200 EURO
As a thank you, you receive a guided yoga nidra by Johanna Hector.
_
DONATE 500 EURO
Thank you for a ticket to any Yoga Games during 2020 or 2021 – online filmed yoga class by Rusty Wells – guided yoga nidra by Johanna Hector
_
DONATE 5,000 EURO
Or more and become a Super Suporter! You get everything above and an extra love boost from us!
Please visit our gofundme page HERE for payment by card
ExLabs AB
Swedbank
Bank Giro 5889-5178
BIC SWEDSESS
IBAN SE47 8000 0810 5990 3799 6551
Account number 8105-9,903 799 655-1
Marking: Donation and your email address so we can thank you!
"Life is not avoiding challenges, it's about navigating them successfully."
Our first goal is to raise 75,000 Euro. This allows us to keep our heads above water right now and we will celebrate this goal with all of you who have donated and helped us with a Yoga Games Celebration Online Party !!!
How much money do you need to raise to save the Yoga Games?We work all year round to be able to organize these events, it is a huge machinery behind them, both hard work and great costs. Since we have already had to move two events, our revenues have fallen sharply and we now need around 750 000 SEK to cover our costs in the near future.
Yoga Games are struggling financially, what has been done to lower costs?
We who organize Yoga Games do not take salaries from the company but try to earn income by working extra in other ways and at the same time pushing Yoga Games forward. We have reduced all costs possible to keep only the most necessary. We do our best to support each other and everyone involved but unfortunately it doesn't pay the bills at the end of the day. We are looking for all the help we can get, but it is very uncertain whether the government's support package will include small companies like us. It takes time before we get an answer, unfortunately it's time we don't have. We also investigate and explore all ways to use the resources we have to generate income. Our goal with this joint action is to not only survive but also create sustainable and thriving events for everyone to take part in in the future.
Will there be any events in 2020?
We really hope so and are working intensively on the planning of the autumn event. We have already changed a lot in our events and are actively working to share them and all details with you as soon as we can. For those of you who have already booked a ticket, hold it tight and we will come back as soon as we can with more information.
About Yoga Games
We are today the Nordic region's largest organizer in yoga events, we started in 2011 and have since expanded positively. Our events are a warm welcome gathering point where people can meet beyond everyday stress and stress. A place to fill their own goblet, share insights, inspiration and simply just be yourself for a while.
We are an internationally renowned organizer that many speak incredibly well, teachers all over the world contact us to be a part of Yoga Games and we have participants who from many different parts of the world.